We're excited to announce that Sacred Heart College Kyneton is one of 123 childcare centres, schools, Scouts and Girl Guides groups, and youth groups to receive a 2023 Victorian Junior Landcare and Biodiversity Grant.
Delivered through Landcare Australia's Junior Landcare program, and funded by the Victorian Government, the grants provide young people with the opportunity to engage in outdoor, hands-on biodiversity focused projects or learning activities that encourage them to value and actively care for Victoria's biodiversity and natural environment.
We are using the $4900 grant for our Campaspe River revegetation project.
Our school backs on to the Campaspe River and for many years we have been working to remove weeds and restore some form of indigenous riparian strip. There have been several efforts at spraying, cutting and grooming of woody weeds, followed by several rounds of plantings and follow up weed control to reduce competition from invasive introduced species. We are now ready to do another round of weed control, replanting, nest box placement and follow up weed control to reduce competition for new plantings.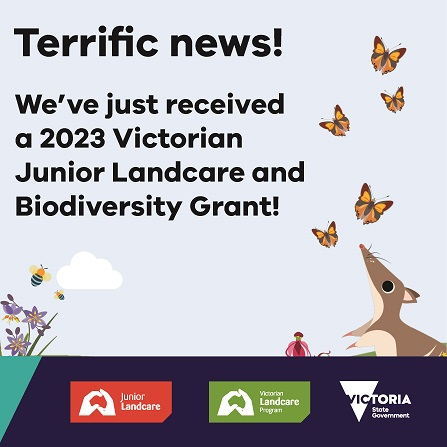 There are several educational outcomes that we would expect from the project. Firstly, the students are learning about the planning process for a revegetation project, and then about the grants application process. Throughout the revegetation project the students will learn how to identify invasive species and how best to control them. They will also learn about riparian species indigenous to the area. They will then have the hands-on experience of sight prep, planting and maintenance. Finally, they will be involved in a program that is clearly improving the local environment and actively working to reduce the human impact of climate change.

On Wednesday 11 October, Brendan and Paul from Campaspe River and Land Management Group, aided Sacred Heart College students and staff in the planting along the Campaspe River. Brendan also provided materials for the planting and donated several Australian Anchor plants (Discaria pubescens), that are listed as threatened under the Flora and Fauna Guarantee Act and are rare in Victoria.
Year 11 and 12 Environmental Studies students were involved in planting across the morning as part of this revegetation project. The College will oversee ongoing maintenance and weed control with an aim of reducing competition from introduced species, and the students will monitor the success of the planting in the months ahead.

The Victorian Junior Landcare and Biodiversity Grants are funded by the Victorian Government through the Department of Energy, Environment and Climate Action. They contribute to the targets of Protecting Victoria's Environment – Biodiversity 2037, the Victorian Government's plan to stop the decline of our native plants and animals and improve our natural environment.