Year 10
In Year 10 at Sacred Heart College, we launch our students into a future of possibilities as they embrace the challenges of Senior School. As they consolidate their practices and skills in their core subjects, students also begin making informed subject choices.
The College also offers and encourages a range of acceleration opportunities for those students who wish to extend their learning, allowing students to study VCE subjects a year earlier.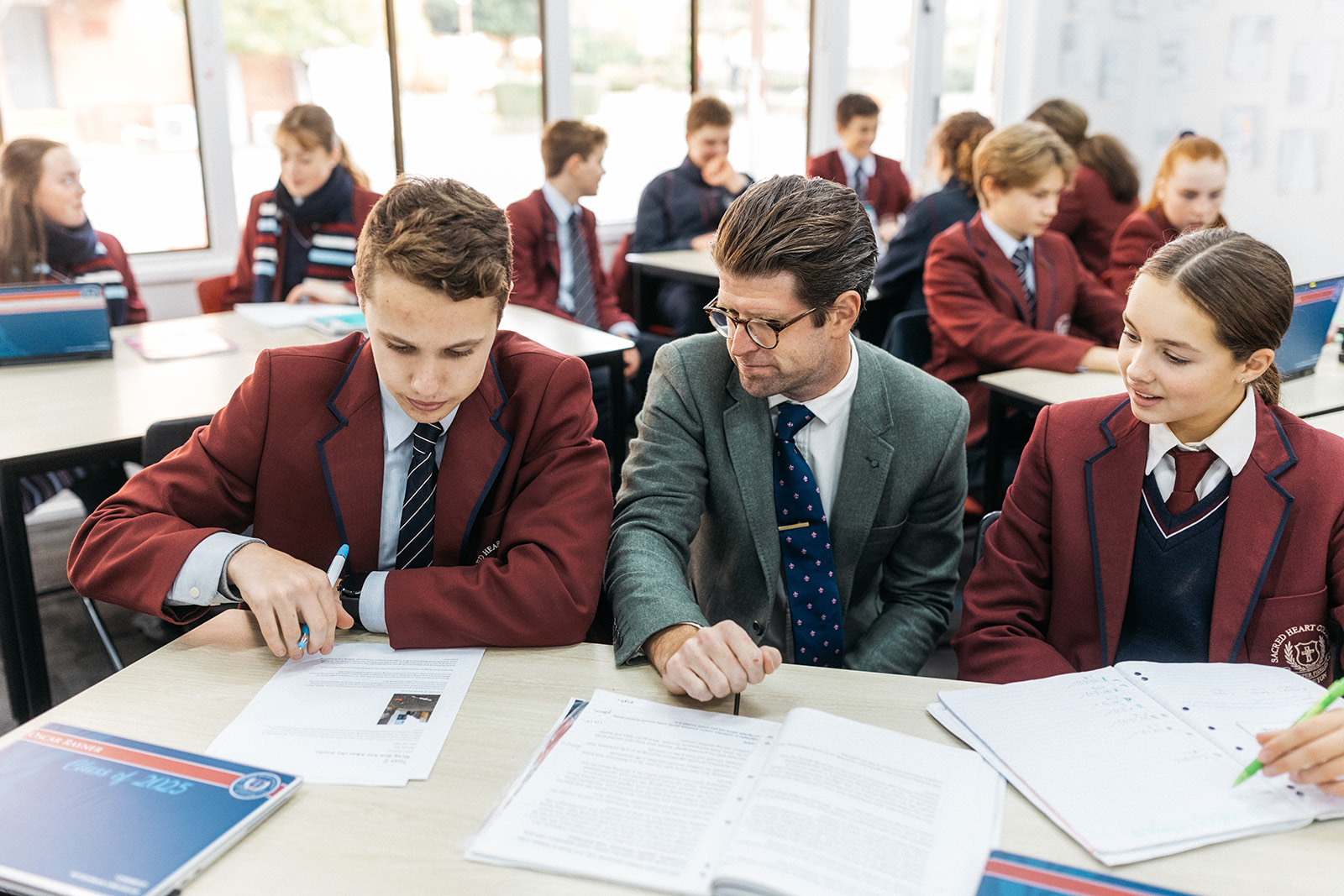 Vocational Education & Training (VET) Units are also offered to Year 10 students who wish to pursue areas of special interest. Vocational Education & Industry Program (VEIP) is a program selected from the core Year 10 subjects, which has been developed at Sacred Heart College, allowing students to undertake weekly Structured Work Place Learning (SWL) arrangements whilst continuing their studies.
Year 11 & 12
Our Year 11 & 12 students have a choice of pathways to suit their various learning styles and future aspirations.
VCE
The Victorian Certificate of Education (VCE) is a senior secondary certificate of education and includes the Vocational Major (VM). VCE is designed to be completed over a minimum of two years and includes VCE Units of Study and Vocational Education and Training (VET) qualifications.
Sacred Heart offers VCE subjects that cater for a wide range of interests and potential career paths. Experienced teachers ensure that students are supported throughout the year and, especially, as they approach their final examinations. We are proud of our VCE academic results that ensure that tertiary education opportunities abound for our students.
VCE - Vocational Major (VCE VM) introduced in 2023
The VCE Vocational Major (VM) is a vocational and applied learning program within the VCE, designed to be completed over a minimum of two years. The VCE VM will give students greater choice and flexibility to pursue their strengths and interests, and develop the skills and capabilities needed to succeed in work, further education, and life. It prepares students to move into apprenticeships, traineeships, further education and training, university (via non-ATAR pathways) or directly into the workforce.
Vocational Education and Training (VET)
VET subjects allow students to gain practical skills in a specific industry while undertaking the VCE or VCAL. Year 10 students have the ability to study VET 1st year subjects, making them a good acceleration choice. Seven VET subjects are offered in-house, all of which run over two years, while students also have the opportunity to access many others externally.
School Based Apprenticeships & Traineeships (SBATs)
SBATs offer wonderful career opportunities for students in Years 10, 11 and 12 who wish to enter the workforce, remain at school and develop a career pathway. They allow students to undertake a part-time apprenticeship while still at school. Students are able to complete Victorian Certificate of Education (VCE) or Victorian Certificate of Applied Learning (VCAL) while developing skills in a particular industry through working and training on-the-job, and receiving off-the-job training.